| | | | | |
| --- | --- | --- | --- | --- |
| CALL | FREQ | OFFSET | TONE | LOCATION |
| WA4J | 147.360 | +600 KHz | 103.5 | BOONE, NC – PCRN LINK |
| WA4NC | 444.575 | +5.0 MHz | 151.4 | BEECH MT., NC |
| WA4NC | 443.0375 | +5.0 MHz | NONE | BOONE, NC – PRN DMR |
| WA4NC | 442.0875 | +5.0 MHz | NONE | SUGAR MT., NC – PRN DMR |
| W4MLN | 444.7375 | +5.0 MHz | NONE | JEFFERSON, NC – PRN DMR |
| W4MLN | 444.300 | +5.0 MHz | 103.5 | JEFFERSON, NC |
| W4YSB | 147.300 | +600 KHz | 103.5 | JEFFERSON, NC |
| KX4CZ | 442.175 | +5.0 MHz | 123.0 | SUGER MT., NC |
| KB4W | 443.525 | +5.0 MHz | 103.5 | BOONE, NC – ECHOLINK |
| W0ML | 224.840 | -1.6 MHz | 103.5 | JEFFERSON, NC |
| KE4AAPW | 146.865 | -600 KHz | 123.0 | BEECH MT., NC |
| W4WAU | 224.68 | -1..6 MHZ | 114.8 | BOONE, NC |
| KO4VDJ | 440.6375 | +5.0 MHz | NONE | BOONE, NC D-STAR |
AREA REPEATERS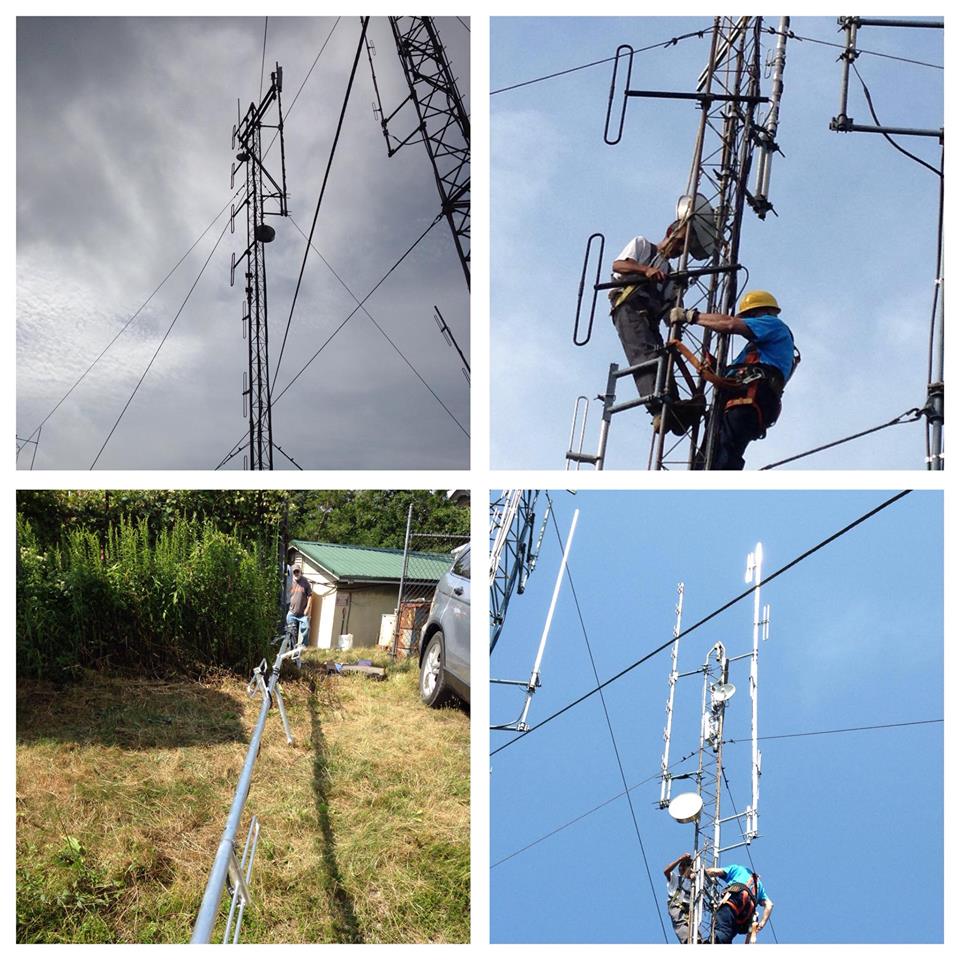 WA4J 2-Meter repeater
Operating atop Rich Mountain (Elevation 4730′ ASL) and overlooking Boone, NC, on 147.36 MHz, the WA4J repeater requires a PL tone of 103.5 Hz. This is a wide coverage Repeater, and all Amateurs within its footprint are welcome. This repeater is usually linked with the WA4NC 444 MHz repeater.
WA4NC 444 MHz REPEATER
Located on Beech Mountain, NC (Elevation 5,500′ ASL) on 444.575 MHz, this (there's more than one!) WA4NC repeater requires a PL tone of 151.4 Hz. This repeater is usually linked with the WA4J 2-Meter repeater.
REPEATER UPDATE July 3, 2019 By Marv Hoffman WA4NC
Over the past two days, we were fortunate that Danny Hampton, K4ITL, came to the High Country to help us complete several projects that are important to our club and our emergency preparedness. Before describing our expanded communications capabilities, the club owes Danny Hampton, K4ITL, a huge thank you for his time and efforts in programming the controllers and solving technical issues which periodically pop up here and across the state. Danny spent days upon days on our project in his shop and spent two days plus travel time up here. A huge round of thanks are also due from the club to Danny Horney, KE4AAP, Jack Bechtel, KB4JEB, and Riley Hatch, KM4GOE.
a. Weather receiver installed and now operational. Whenever NWS Blacksburg sends out a severe weather or emergency message pertaining to Watauga County over the Mt. Jefferson WX transmitter, the digital signal they send will open our WX receiver and you will hear the transmission on the Rich Mountain repeater (147;3600 mhz). The weather broadcast will continue until the Weather Service sends a mute code. If, for some reason, no mute code is received, the weather receiver will stop the rebroadcast after five minutes. It is also possible at anytime to test the weather by sending the touch tone command *99. This will open up the WX receiver for 30 seconds and the receiver will automatically reset. During a weather alert, local traffic will temporarily mute the WX message which will resume after five seconds and remain on until the conclusion of the alert. NWS makes a test transmission of its weather alert radio system each Wednesday just before noon. If severe weather is occurring in our area, NWS postpones the weather radio until the next available day without severe weather.
b. Cross Band Link between Rich Mountain 2 meters and the Beech Mountain UHF repeater is now active When the link is active, any transmission from Rich is sent out over Beech and vice versa. You will notice the addition of a low frequency tone burst which indicates that the link is active between Rich and Beech. In the event of system problems, interference, or because of an operational need, it is possible to unlink the repeaters and have them operate independently as they did before the link system was added. The Beech Mountain 444.575 repeater covers western Watauga and southern Avery County, as well as the area near Grandfather Mountain better than does the 147.3600 repeater. In the near future, another trip will be made to Beech Mountain to make some programming changes to shorten the hang time and to lower the audio level on the Morse code station identifier.
c. The PCRN linking system remains available for use. This is an on-demand system available to PCRN members that makes it possible to send touch tone commands to link Rich Mountain to approximately 30 other analog repeaters in North Carolina, South Carolina, Virginia and West Virginia. Information on the PCRN linking linking system and how to join PCRN can be found on the web at pcrn.net. When the PCRN link is activated, distinctive voice announcements are made which advise that the link is active and which repeaters are linked.
d. Time and Temperature on Rich. The new repeater controller has the ability to be scheduled to correct the time on the controller clock. Once we know how much time the controller clock gains or loses in a week, a macro will be added to update the clock. There will be an automatic correction for the beginning and ending of Daylight Time. We calibrated the outdoor temperature sensor to an alcohol thermometer and hope that the announcements track with the outdoor temperature on Rich Mountain. If you notice things that don't seem correct or don't work properly, please drop me a line. Your input is welcome concerning problems that arise in the operation of these features. Marv, WA4NC.