PICTURES FROM AUGUST PICNIC
WARC held a picnic August 5 at Julian Price Park on the Blue Ridge Parkway. Over 25 members and guests attended, and a good time was had by all.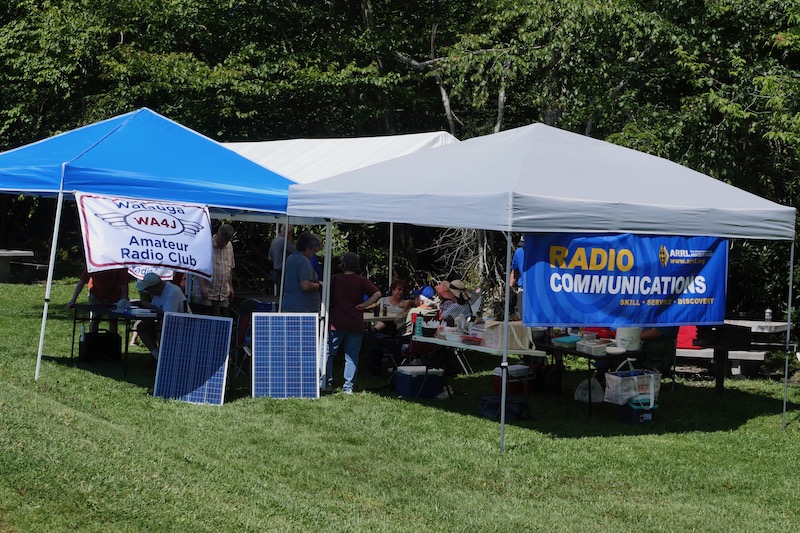 MAY FOX HUNT RESULTS
Congratulations to Corey WB0RXQ, and Team Stella, for finding the Fox first in the WARC Spring Fox Hunt. Corey and his team (wife Debbie and pup Stella) found the Fox at about the 1 hour mark of the hunt.
The Copeland/Dove team checked in at the Fox location less than 5 minutes after the leaders to finish second in the hunt. JD, AD4JD has filled up the top shelf in his shack with Fox Hunt trophies. JD was teamed this time with Rick Dove WB4ROX. Congratulations Rick, for medaling in your first WARC fox hunt.
The Douglass/Lassiter Team finished third.
All the hunters, and many of our wives, enjoyed lunch and camaraderie at New River Ale House after the hunt.
Thanks to all those who participated.
WARC PARTICIPATES IN 2023 EMERGENCY FEST
On Sunday, May 20, 2023, WARC participated in the annual Watauga County Emergency Fest. This event highlights a wide variety of emergency services from Watauga and surrounding counties. Our club has participated in this event for many years, with the intent of showing the public how amateur radio can assist with emergency communications. Special thanks to JD-AD4JD, Danny-KE4AAP, Corey-WB0RXQ, Mark-KX4IK, and Rich-K1HE.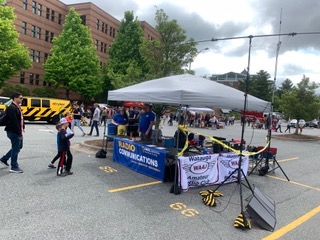 WA4J PARTICIPATES IN NC QSO PARTY!
On Sunday, February 26, WARC participated (for the first time ever) in the North Carolina QSO party. A mix of old-time and brand-new Contesters assembled at the QTH of K2SD, and operated from 10 AM till 8 PM. We operated two stations in the Low-Power1 (100W) & Mixed (Cw/SSB) mode.
The team included Dennis+-KA4BOE, Lory-W3AX, George-K2ODV, William-KK4NLU, Mark-KX4IK, Rich-K1HE, Corey-WB0RXQ, Eric-NI4E, and Scott-K2SD.
This is a summary of our contest results. The score does not reflect any bonuses we may get.
We worked all six special event stations: N4W, N4R, N4I, N4G, N4H, & N4T (Spelling, 'WRIGHT"),
So we should be credited with bonus points for that
"Clean Sweep". We had only five duplicate log entries which had to be removed, and a few entries that had to be deleted due to missing data, but this was a remarkably clean log given we had some newcomers who had to quickly learn the finer points of Skookumlogger and other contest mysteries.
BAND QSOs CW SSB REGIONS
80 30 30 0 2
40 170 101 69 46
20 392 168 224 53
15 31 31 0 1
10 1 1 0 1
TOT 624 331 291 102
SCORE (Before Bonus) = 161,108
UPDATE – MARCH 28, 2023:
The results are in, and our club took third place in the Multi-operator all mode low power In-State category. There were seven entrance in this category. This is an excellent result for our training-mode activity, and we hope to use the lessons learned to win this category next year.
The contest results may be viewed at http://ncqsoparty.org/results-2__trashed/results2022-2/
Below is a snapshot of the results showing how we finished: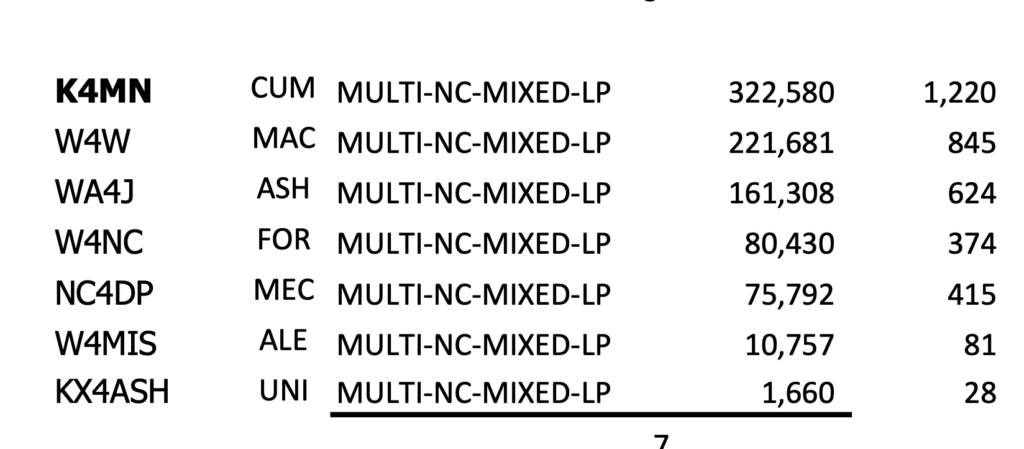 Thanks to Dennis Busher- – KA4BOE, for the above pictures, as well as the outstanding video he produced, which can be seen at
https://drive.google.com/file/d/130y1U8NPLC46bBOpNRxT04X7AkJaUf2W/view?usp=sharing
---
GREETINGS FROM THE HIGH COUNTRY
Fall is coming closer each day. Overnight lows near Tweetsie have been in the 51-54 degree range. Saturday's football game between Appstate and East Carolina University was exciting but as the sun began setting in the late afternoon the stadium seats were getting cooler and less comfortable. Sunday had periods of heavy rain.
Late News:
1. W1AW/4 will be operating from 4800 feet elevation up here near Boone. Listen on 146.520 MHz (FM SIMPLEX) on Tuesday, September 26, and the guys from Charlotte will looking for contacts between 8:00 p.m.- 10:00 pm.
2. Operate as W1AW/4 – A Year-Long Operating Event Recognizing Volunteers
The ARRL is celebrating with a year-long operating event honoring all ARRL volunteers through the VOTA program. If you are interested in operating as W1AW/4, you have an opportunity coming up soon as part of the VOTA operation Each state will have two different weeks assigned for the year.
The second period for North Carolina is coming up September 27 (00:00z – October 3 23:59z. During this week- long period, only one operator at a time can use the W1AW call. A coordinator has been assigned to coordinate the North Carolina operation. You must request a time slot and get approval before operating as W1AW/4. If you are interested, use the following link to request a time slot: https://www.cdxa.org/vota-nc.php
Earning Points for contacting W1AW Portable Stations: There will be week-long activations of portable W1AW/# stations in all 50 states, and in several US Possessions/Territories, that will generate on-air activity to earn points. Each state will be activated twice. The schedule of when which states will be activated as posted in the dashboard above will be updated as changes/additions occur.
Using Logbook of the World (LoTW – see http://www.arrl.org/logbook-of-the-world) as the QSOs data source, the 2023 Volunteers On The Air event features W1AW activations from all 50 states (twice) and several territories during 2023. Weeks will begin on a Wednesday and end on a Tuesday. Some weeks will be shown as off weeks to avoid other major operating events. Participants will work W1AW portable stations and ARRL volunteers to earn QSO points.
3. Amateur radio operators who are interested in volunteering to showcase amateur radio at the upcoming NC State Fair(which runs from October 12 to October 22) in Raleigh. This is a project that will take numerous operators since operation will occur during two shifts (0900-1500 and 1500-2100) each day of the Fair. Operations will be in a tent on the Fairgrounds. Admission tickets will be provided for operators as will free parking. Contact Travis Russell, KN4WJL (kn4wjl@proton.me) to sign up for one or more of the operator slots.
4. NATIONWIDE EMERGENCY ALERT TEST ON OCTOBER 4
Test Messages Will be Sent to All TVs, Radios and Cell Phones. WASHINGTON — FEMA, in coordination with the Federal Communications Commission (FCC), will conduct a nationwide test of the Emergency Alert System (EAS) and Wireless Emergency Alerts (WEA) this fall.
The national test will consist of two portions, testing WEA and EAS capabilities. Both tests are scheduled to begin at approximately 2:20 p.m. ET on Wednesday, Oct. 4. The WEA portion of the test will be directed to all consumer cell phones. This will be the third nationwide test, but the second test to all cellular devices. The test message will display in either English or in Spanish, depending on the language settings of the wireless handset. The EAS portion of the test will be sent to radios and televisions. This will be the seventh nationwide EAS test.
5. EARTHQUAKE EXERCISE – October 19
The Great Shake Out is the world's largest earthquake drill. It is held annually on the third Thursday of October, and millions of people participate all over the world. In 2022 over 45.6 million people registered their participation. The goal of the Shake Out is to teach people how to protect themselves during an earthquake. Info on how amateur operators can participate is found at https://winlink.org/content/shakeout.
6. The US Department of Defense (DOD) soon will be conducting DOD COMEX 23-4. During the week of October 16, there will be a series of high-power HF information transmissions on 60 meters and channel 1 (5330.5 kHz).
Enjoy the cooler weather and stay prepared for the potential of severe weather.
Marv, WA4NC
Boone