WA4J PARTICIPATES IN NC QSO PARTY!
On Sunday, February 26, WARC participated (for the first time ever) in the North Carolina QSO party. A mix of old-time and brand-new Contesters assembled at the QTH of K2SD, and operated from 10 AM till 8 PM. We operated two stations in the Low-Power1 (100W) & Mixed (Cw/SSB) mode.
The team included Dennis+-KA4BOE, Lory-W3AX, George-K2ODV, William-KK4NLU, Mark-KX4IK, Rich-K1HE, Corey-WB0RXQ, Eric-NI4E, and Scott-K2SD.
This is a summary of our contest results. The score does not reflect any bonuses we may get.
We worked all six special event stations: N4W, N4R, N4I, N4G, N4H, & N4T (Spelling, 'WRIGHT"),
So we should be credited with bonus points for that
"Clean Sweep". We had only five duplicate log entries which had to be removed, and a few entries that had to be deleted due to missing data, but this was a remarkably clean log given we had some newcomers who had to quickly learn the finer points of Skookumlogger and other contest mysteries.
BAND QSOs CW SSB REGIONS
80 30 30 0 2
40 170 101 69 46
20 392 168 224 53
15 31 31 0 1
10 1 1 0 1
TOT 624 331 291 102
SCORE (Before Bonus) = 161,108
UPDATE – MARCH 28, 2023:
The results are in, and our club took third place in the Multi-operator all mode low power In-State category. There were seven entrance in this category. This is an excellent result for our training-mode activity, and we hope to use the lessons learned to win this category next year.
The contest results may be viewed at http://ncqsoparty.org/results-2__trashed/results2022-2/
Below is a snapshot of the results showing how we finished: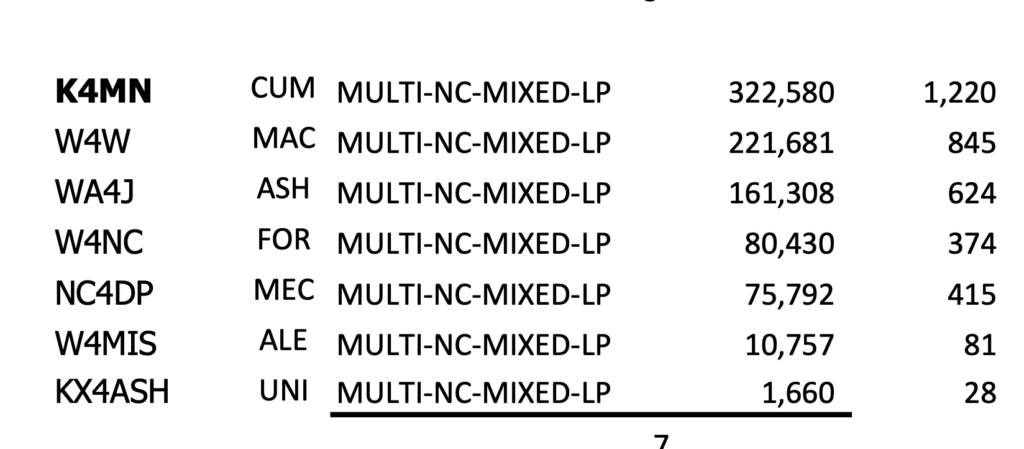 Thanks to Dennis Busher- – KA4BOE, for the above pictures, as well as the outstanding video he produced, which can be seen at
https://drive.google.com/file/d/130y1U8NPLC46bBOpNRxT04X7AkJaUf2W/view?usp=sharing
---
GREETINGS FROM THE HIGH COUNTRY
No fooling, there is some evidence that Spring may be coming to the
mountains. Up here at 3850 ft amsl, there are some lawns that have
started to turn green and a few, but not many, buds are in bloom.
Earlier this week, the noontime high temperature was hovering around 51
degrees and overnight lows were around 42. When I got up this morning
on March 29, the overnight low shown on my weather station was 32.6
degrees. There have been projections that the lows later in the week
will be in the low- to high-30's so the visits of Springtime weather
so far this year have been brief.
EMCOMM MATTERS
FEMA APPROVED POSITIONS WITHIN THE COMMUNICATIONS UNIT
A few weeks ago, in mid-March, FEMA's bureaucracy completed a
three-year process that resulted in the official designation of a number
of positions within the COMU that is part of the organizational chart
within the Incident Command System. The FEMA approval process
identifies the duties and reporting relationships among several
positions previously identified as "Technical Specialist".
The approval by FEMA allows states to adopt the Position Task Books (and
to include additional duties appropriate to their particular state) that
will lead to credentialing for the AUXCOMM (AUXC), COMMUNICATIONS
TECHNICIAN (COMT), INCIDENT TACTICAL DISPATCH (INTD), and INCIDENT
COMMUNICATIONS CENTER MANAGER (INCM) positions . Additionally, the
FEMA action recognizes positions in the Information Technology and
Cybersecurity functions within the overall COMMUNICATIONS unit (COMU).
The FEMA document can be found at
North Carolina is a leader in advocating training standards and
identifying skills recently approved by FEMA. For nearly a decade, NCEM
has required COMU personnel to meet NIMS/ICS training and has been
offering courses to train Communications unit personnel to work within
the expanded COMU structure while meeting the Homeland Security PTB
standards for various COMU positions.
ARES task books published by the ARRL are different than the Homeland
Security task books and the two training regimes are not
interchangeable. The ARRL ARES training course certificates and
training levels are not recognized by any state or territory while the
AUXCOMM training is recognized across the United States Government, the
states and territories. NIMS/ICS training is a basic requirement for
states and territories to receive Stafford Act funding before and during
disasters.
Josh Johnston, K5MHV, ARRL Director of Emergency Management stated,
"This is a major step in the recognition of the need and usefulness of
amateur radio and other communications services in our national
preparedness" …." It also gives official guidance to pave the way
for future training and education of volunteers in ARRL's Amateur
Radio Emergency Service® (ARES®)," Johnston added. The ARRL
comments can be found at
http://arrl.org/news/amateur-radio-included-in-fema-guide-for-national-emergency-preparedness.
ONE SLOT REMAINS IN THE MANTEO AUXCOMM COURSE
NCEM is offering the AUXCOMM course in Manteo, at the Dare County EOC,
on April 21, 22 and 23. Fifteen slots were approved by NCEM and all but
one slot has been filled by persons who have met the published
pre-requisites (ICS 100c, 200c, 700b, and 800d as well as holding a
valid amateur radio license and an endorsement from the local Authority
Having Jurisdiction (the local County Emergency Management Agency).
NCEM will provide reimbursement for travel, lodging and meals for
persons travel more than 50 miles to complete the course. Information
can be found at https://terms.ncem.gov/TRS/logon.do .
SOUTHEASTERN NORTH CAROLINA HURRICANE EXERCISE TO BE HELD ON MAY 4
Matt McMahon, WU2V, SMAT 100, is the Director for a hurricane exercise
involving a variety of disaster agencies, hospitals and Auxcomm stations
in Southeastern North Carolina which will be held on May 4. The
exercise is listed in TERMS at
(https://terms.ncem.gov/TRS/courseDesc.do?sourcePage=courseSearch&cofId=147490)
. Auxcomm personnel with a an open Position Task Book may want to
contact Matt McMahon to determine if Winlink participation can be used
to as an Incident and count towards getting closer to completing their
open PTB. Completed PTB's are referred to a qualifications committee
before being submitted to the Statewide Interoperability Executive
Committee which meets once each quarter.
EMERGENCY POWER FOR YOUR SHACK
Because of power outages seem to be occurring more often, many hams are
thinking about how to keep their hack powered up when the commercial
power is interrupted. One of the many presentations given by the RATPAC
(Radio Amateur Training Program Advisory Committee) focuses on this
topic. Although the presentation was made on March 23, it is viewable
at your convenience via a YouTube video. Go to
https://www.youtube.com/watch?v=rxtVrl87_I8 .
A listing off hundreds of RATPAC videos on a wide array of ham-radio
topics prepared by subject matter experts can be found at
https://sites.google.com/view/ratpac .
WINLINK APP FOR IPHONES
You may find this information to be helpful. A recent addition to the
Winlink webpage describes a new app that allows telnet connections to
the Winlink system via you IPhone. Information can be found at
https://winlink.org/content/announcing_radiomail_ios .
AMATEUR RADIO MATTERS
PLANNING FOR STATEWIDE PARKS ON THE AIR IN THE FALL IS MOVING AHEAD
Zach Thompson (KM4BLG), who lives near Asheville, graciously agreed to
organize a POTA event which will have all NC State Parks activated on a
single weekend this Fall. I have seen emails from across the state in
which clubs and individuals have offered to help Zach on this exciting
event. If you are interested in participating or helping organize
activities at a nearby state park, please drop Zach a note at km4blg at
gmail dot com.
RARSFEST ON APRIL 8 IS COMING UP QUICKLY
There will be a huge All Indoor Flea Market with 230+ Tables,
Satellite Communications Demonstration, Commercial Dealer Booths,
Walk-In License Exams at 11:30, You will see a Hands-On You-Build-It
Project Table to teach kids and adults new skills. Check out the Door
Prizes, Meetings and Forums. Cousin's Confections will have food and
beverages for sale in the restaurant area, including assorted Danish,
sausage, bacon and ham biscuits, assorted juices, and fresh brewed
coffee for breakfast, and burgers, hot dogs, BBQ pork sandwiches,
assorted wraps, soft drinks, and lemonade for lunch! There will be no
charge for the amateur radio exams that will be available at RARSFEST,
just like Hamvention! On-line tickets for RARSFEST costing $10 ends at
11:59 pm on April 1. $12 tickets will be available at the door. Go to
https://www.rarsfest.org/admission.php .
Info about RARSFEST is available at https://www.rarsfest.org/ .
WINSTON-SALEM HAMFEST ON APRIL 15
The Forsyth Amateur Radio Club will be holding its Spring Hamfest from 7
-11 am at the Robinhood Road Baptist Church, 5422 Robinhood Road,
Winston-Salem, North Carolina 27106. Info can be found at
PLAN AHEAD FOR FIELD DAY!!!
Field Day is always held on the fourth weekend in June and will occur
this year on June 24 and 25. Rules can be found at
http://www.arrl.org/field-day#rules . – BE SURE TO READ GOTA STATION
RULES (4.1.1.5) which awards 5 points for each contact made on a GOTA
station.
As your Section Manager I will be traveling through Eastern and
Southeastern North Carolina during the Field Day weekend. Let me know
if you would like me to visit your Field Day site and I will see if I
can make the logistics work.
ARRL DUES INCREASE SEEMS LIKELY – READ ARRL CEO COMMENTS IN APRIL 2023
QST
ARRL CEO David Minister posted an editorial on page 9 in the April 2023
issue of QST laying the ground work for the ARRL Board to increase the
annual dues which have been at $49 for several years.
Board minutes over in the recent past have contained information that
ARRL has spent more than it is has taken in in in revenues, requiring
transfers from the ARRL Endowment and requests to outside funding
sources (including the Amateur Radio Digital Communications) for
substantial grants to pay for programs that were not anticipated earlier
in the year when the ARRL annual budget was adopted. An item on page
62,April 2023 QST noted that the Board was advised that ARRL spent
approximately $760,000 more than it took in during 2022.
You have the opportunity to share your opinions with Roanoke Director
Jim Boehner (N2ZZ) and Vice Director Bill Morine (N2COP) prior to the
July 2023 Board Meeting when this matter is expected to be voted on by
the Board.
CLOSING COMMENT
Amateur radio is alive and well in North Carolina. The tempo of
activity is picking up. A couple of weeks ago we were at the very
successful Charlotte hamfest and now we are getting ready to travel to
RARSFEST next weekend and then the Winston-Salem hamfest on April 15.
Along with Virginia Enzor and Karl Bowman we will be in Manteo on April
21, 22, and 23 with the Auxcomm course. May will involve a trip to the
Dayton Hamvention and in June there will be lots of visits as part of
Field Day.
Hamfests, Field Day and training opportunities all depend upon your
enthusiastic participation.
Get on the air and reach out to someone who wants to get into ham radio
but needs an Elmer. You can make a difference in the future of amateur
radio by passing along the enthusiasm that has kept many of us
interested in ham radio for two, three, four, five and even and more
decades.
Marv, WA4NC
——————————————————————–
ARRL North Carolina Section
Section Manager: Dr Marvin K Hoffman, WA4NC
wa4nc@arrl.org
——————————————————————–
To unsubscribe from messages, go to:
http://p1k.arrl.org/oo/a644ddb5fbbcb8bcd6b642ccec0f5d53